• alligator farm • conservation • ecology • history • Louisiana gators • sustainability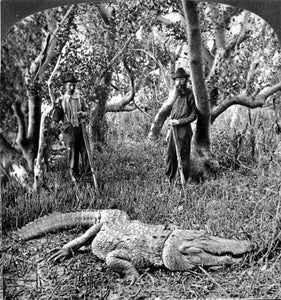 A Brief History of the Alligator Conservation Movement The 1920s were tough times for a gator... Hunters tracking 'em down in the swamps. Souvenir entrepreneurs trapping baby gators, and village dwellers robbing eggs…. The alligator population was in decline, so Louisiana outlawed hunting on State wildlife refuges; and then the Feds restricted the sale of alligator products. Louisiana realized what a lucrative economic opportunity alligators could be and wanting to sustain them as a renewable natural resource began to regulate and tax the industry. First, they created a designated hunting season but, since so little was known about alligators at...
---
• conservation • E-News • gift ideas • home decor • Louisiana gators • skulls • taxidermy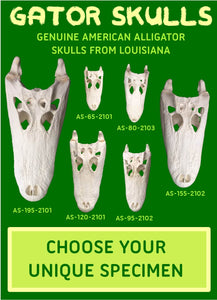 Alligator skulls are timeless decor... after all, they have been around 70 millions years! They make a great canvas for creative projects, too!
---
• accessories • alligator farm • Baby gators • conservation • ecology • gator heads • keychain • Louisiana gators • nature facts • sustainability • sustainable tourism • taxidermy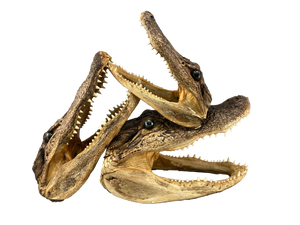 Did you know -- 
alligator heads
, skulls & claw novelty items support species conservation? That's right, alligators were once hunted to the brink of extinction, but thanks to a concerned American public and savvy governments, our nation's beloved reptile made a comeback. Now the demand for taxidermied alligator novelty items incentivizes landowners to conserve their swampland.
---
• alligator farm • Baby gators • Louisiana gators • nature facts • video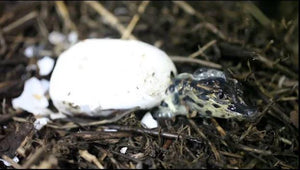 The miracle of life begins after 65 day incubation period. Our friends at the Instigator Alligator Farm & Hatchery on the Northshore showed us the subtle techniques used to coax a baby alligator out of its warm oozy egg nest. 
---
• cartoon gators • Louisiana gators • video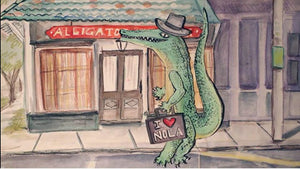 Stay tuned for The Great American Alligator Museum in New Orleans, Louisiana - opening Fall 2020! Our museum shares the social and natural history of the American alligator, featuring fossils, images & stories of gator conservation, and gator-themed folk art.  Gators have been the subject of stories, wonder & awe since forever - Native American culture til today! Learn at the museum, and order all your gator gear here! Gee I Wish I had an Extra Dollar... from Robert McDade on Vimeo. No dinner. No air conditioning. Bills past due. This gator's having a tough time of it!